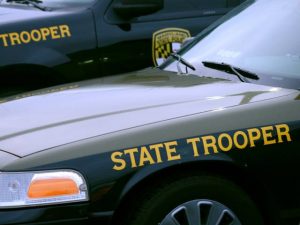 Maryland State Police from the Leonardtown Barrack are investigating the following incidents:
CDS Possession with Intent to Distribute: On October 4, 2017 at approximately 4:30 p.m. TFC J. Mulhearn responded to Exquisite Court, Lexington Park, for a warrant service.  While attempting to make contact with the subject listed on the warrant, he detected the odor of marijuana emitting from the residence. When he approached the front door of the residence he observed live suspected marijuana plants in individual planter pots outside the front door in plain view. The plants were seized and he attempted to locate the owner of the residence.  At 5:49 p.m., the home owners, Tabatha Lee Hower, 45, and David William Hower, Sr., 50, both of Lexington Park, arrived at the residence.  Tabatha Hower was charged with Possession of CDS: Marijuana on a criminal summons.  David Hower Sr. was charged with CDS Manufacturing, CDS Possession with Intent to Distribute, and Possession of CDS Marijuana on a criminal summons.
CDS: On September 28, 2017 at approximately 7:00 a.m., Detective Sergeant J. Linger was on-duty in the area of  MD RT 235 in the area of St. John's Road, Hollywood, St. Mary's County, Maryland.  D/Sgt. Linger conducted a traffic stop on a 2008 Ford Taurus and made contact with the driver, identified as Shaun Michael Dyson, 28 of Virginia.  D/Sgt. Linger observed partially burnt hand rolled cigars in plain view inside the vehicle. Upon further investigation, and inspection, the cigar contained K2/Spice which is a synthetic marijuana. Mr. Dyson was arrested for possession of CDS– Non marijuana.
CDS Possession with Intent to Distribute: On October 3, 2017 at approximately 12:21 a.m., TFC C. DiToto was travelling southbound on MD RT 235 at Pegg Road when he observed a vehicle operating in an erratic manner.  TFC DiToto attempted to stop the vehicle on Pegg Road, but it continued. As the vehicle approached the intersection of Pegg Road and Forest Run Drive, TFC DiToto observed the driver throw multiple white bags out of the passenger side of the vehicle.  The vehicle turned on Westbury Blvd and then stopped at the intersection of Westbury Blvd and Saltmarsh Court.  The driver was identified as Marlon Weslee Hill, 46 of Lexington Park.  Mr. Hill admitted throwing contraband out of the vehicle. A search incident to arrest revealed a plastic bag containing suspected cocaine located in the vehicle as well as a large sum of money on his person.  TFC C. Ruth and Deputy Bush returned to the location where the contraband had been thrown from the vehicle and located additional plastic bags of suspected cocaine.  Mr. Hill was transported to the St. Mary's County Detention Center where he was charged with Possession of CDS (Crack Cocaine), Possession of CDS with Intent to Distribute and Possession of CDS Paraphernalia.
Burglary: On October 11, 2017 at 11:30 hours, Trooper D. Coppedge responded to Darcy Lane, Lexington Park, MD for a report of burglary/theft.  Upon arrival and making contact with the home owner, it was revealed that an unknown person had stolen his Bersa Thunder .380 handgun and approximately $700 cash from a safe inside the residence.  There were no signs of forced entry, the investigation continues.

Possession of Marijuana Less Than 10 Grams
| | | | | |
| --- | --- | --- | --- | --- |
| Name of Arrestee | Age | City, State | Offense Date | Arresting Officer |
| Kaitlyn Amber Walker | 22 | Lusby, MD | 10/2/2017 | TFC J. Mulhearn |
| Taleigha Loryne Somerville | 19 | Lexington Park, MD | 10/3/2017 | TFC D. Coppedge |
| Damato Maurice Butler | 26 | Great Mills, MD | 10/6/2017 | Tpr. J. Manning |
| Justin Sean Bean | 19 | Port Republic, MD | 10/6/2017 | Tpr J. Manning |
| Megan Michelle Ching | 30 | Mechanicsville, MD | 10/6/2017 | TFC J. Mulhearn |
| Haley Nicole Bergendahl | 23 | Huntingtown, MD | 10/9/2017 | Tpr. A. Opirhory |
| Kelsey Ann Kinnier | 18 | Middletown, MD | 10/12/2017 | Tpr. J. Rutkoski |
| Colin Bishop Murphy | 18 | Mechanicsville, MD | 10/17/2017 | TFC C. DiToto |
| Shannon Louise Guy | 30 | Lusby, MD | 10/18/2017 | Tpr. M. Posch |
| Madison Brooke Willett | 19 | Lexington Park, MD | 10/20/2017 | TFC B. DiToto |
| Patrick Ryan Klock | 23 | Chaptico, MD | 10/20/2017 | TFC S. DiToto |
| Taylor Elaine Griffith | 19 | Lusby, MD | 10/20/2017 | TFC C. DiToto |
| Cory Demarcus Pinson | 38 | Lexington Park, MD | 10/22/2017 | TFC S. DiToto |
| Keith Alphonzo Baskin | 29 | Great Mills, MD | 10/27/2017 | Tpr. A. Piscopo-Bann |
| Grayton Medina Walter | 21 | Hollywood, MD | 10/30/2017 | Tpr M. Posch |
DUI Arrests
| | | | | |
| --- | --- | --- | --- | --- |
| Name | Age | City, State | Offense Date | Arresting Officer |
| Hilario Cervantes | 50 | Collinsville, OK | 10/1/2017 | TFC D. Coppedge |
| Tyler Nathaniel Hair | 24 | Mechanicsville, MD | 10/3/2017 | TFC C.Ditoto |
| Emmanuel Rosario Ojeda | 30 | Denver, CO | 10/4/2017 | TFC D. Coppedge |
| Robert Miguel Huici | 31 | Charlotte Hall, MD | 10/4/2017 | TFC S. Ditoto |
| Amy S Santoria | 50 | Antioch, IL | 10/5/2017 | Cpl. M.Grimes |
| Robert Wilson Barrett | 56 | California, MD | 10/5/2017 | Tpr. M. Manning |
| Thomas Eugene Hill | 59 | Lexington Park, MD | 10/5/2017 | TFC S. Ditoto |
| Michael Anthony Hall | 23 | Lexington Park, MD | 10/7/2017 | Cpl. M. Grimes |
| Terrance Anthony Quille | 21 | Walforf, MD | 10/8/2017 | Cpl. M. Grimes |
| George Leon Walker | 50 | Upper Marlboro, MD | 10/8/2017 | TFC B. Meurrens |
| Jake John-Patrick McGuire | 24 | Great Mills, MD | 10/12/2017 | TFC S. Ditoto |
| Sharmayne Danae Heigh | 22 | Upper Marlboro, MD | 10/13/2017 | TFC S. Ditoto |
| Caitlynn Taylor Rader | 23 | Lexington Park, MD | 10/13/2017 | Tpr. T. Howard |
| EricT Daniel | 55 | Irvington, NJ | 10/13/2017 | TFC B. Ditoto |
| Jeremiah Anton Thomas | 37 | Chaptico, MD | 10/16/2017` | TFC B. Meurrens |
| Patricia Ann Swann | 62 | Lexington Park, MD | 10/18/2017 | TFC D. Coppedge |
| Darrin Loon Poon | 49 | La Plata, MD | 10/18/2017 | Tpr. M. Whitman |
| Lisa Ann Gaddis | 50 | Hollywood, MD | 10/19/2017 | Cpl. M. Pitcher |
| James Tolson Walker | 44 | Brooklet, GA | 10/21/2017 | TFC B. Ditoto |
| Amanda Brooke Malamphy | 25 | Lusby, MD | 10/21/2017 | S/Tpr. E. Evans |
| John Jeffrey Burch | 49 | Lusby, MD | 10/21/2017 | TFC S. Ditoto |
| Joseph Leon Davis, Jr. | 37 | Lexigton Park , MD | 10/29/2017 | TFC D. Coppedge |