Sallee joins popular a cappella group for the holidays
As soon as he could talk, Matt Sallee was likely singing. The Maurice J. McDonough High School graduate can't remember a time he wasn't singing, and can't imagine not doing it. "I sing all the time," he said. "I don't even realize I'm singing."
Sallee's lifelong passion has landed him a spot with the a cappella juggernauts Pentatonix. Sallee, a bass, joins the group for the holiday season. "I landed in Los Angeles on Sept. 15 and recorded two songs the next morning," he said. "I hit the ground running."
Sallee took over for Avi Kaplan, who left Pentatonix in early September when the group was prepping for a holiday tour and adding tracks to its Christmas album. Sallee, who also filmed a music video and television special with the group ahead of the tour, graduated from McDonough in 2012 where he was active in the chorus and theater programs.
He played Danny is "Grease" and was the understudy for his friend, the late Bobby Balint in the school's production of "West Side Story." When Balint suddenly passed away, Sallee had the daunting task to fill the lead role of Tony in the play. "I think that was the most memorable experience because we had to come together … we did it in his memory," Sallee said.
It was during his years at McDonough when Sallee first met the professional group he would eventually join. As a member of the Ramtations, an all-male a cappella group, Sallee attended the a cappella festival, SingStrong. Pentatonix had just won the third season of "The Sing-Off" and were leading a workshop at the competition. "It's incredible how it all came full circle," said T.C. O'Brien, Sallee's music teacher at McDonough.
O'Brien, who's in her first year of retirement, said she spotted Sallee's talent from his first day of freshmen year. But it was his dedication and work ethic that helped him reach new heights. "By the time he was a senior, I knew he was meant to be a performer," O'Brien said. She is not surprised Sallee is making a career out of singing and performing. "He's always had the special gift," she said. "He had that sparkle on stage, but he put in the time and the hours."
He has the backing of his family — parents Ernest Sr. and Tammy, and siblings Ernest Jr. and Tamira, a McDonough senior who is in the orchestra. With his father being a musical pastor, Sallee got his start singing in church. It was his mom, Tammy, who first suggested Sallee take his talents seriously and hone them. After singing the national anthem in a Dr. James Craik Elementary School talent show as a third grader, and playing one of the princes in the College of Southern Maryland's production of "The King and I," Sallee was hooked on performing. He took part in plays and skits at South Potomac Church and attended performing arts camps.
After graduating from high school, Sallee headed to Berklee College of Music in Boston, but it wasn't his first choice. He wanted to study musical theater at Elon University, however the program only accepts up to 20 new students each year, and he didn't make the cut. Yet it didn't take Sallee long to settle into Berklee. "It was meant to be," he said. "I was supposed to go to Berklee."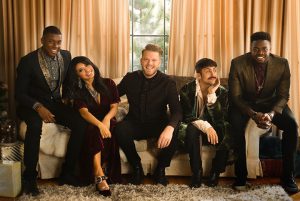 Sallee stayed in Boston following his 2016 college graduation. He had a job singing with a wedding band and is a member of The House Jacks, an a cappella group co-founded by Deke Sharon, a producer for the television show, "The Sing-Off."
When the opportunity to try out for Pentatonix came up, Sallee auditioned. He received a call back in June and that was it. He said he didn't hear back until September when he got a phone call. "Can you move to LA in a week?"
Joining an established group can be hit or miss. Pentatonix's members — Mitch Grassi, Scott Hoying, Kirstin Maldonado and Kevin Olusola — made Sallee feel at home immediately. "They are the most welcoming people I've ever encountered," he said. "They were excited for me; they were excited for the group."
Being the new guy, it was nerve wracking at first, Sallee said. "I've dreamed of singing with them for so long," he said. "For an a cappella nerd like me, they're the pinnacle of a cappella." Once the jitters calmed down, Sallee got to work. "I'm here for a reason," he said. "It was very natural. It didn't feel awkward."
The group recorded two new tracks — "How Great Thou Art" featuring Jennifer Hudson and "Deck the Halls" — to be included on its Christmas album, "A Pentatonix Christmas Deluxe," and filmed the "Deck the Halls" video. Pentatonix is touring the East Coast with stops in Washington, D.C., Boston, Pennsylvania and other cities.
O'Brien already has her tickets for the Pentatonix show. And she's heard from students still at McDonough who are excited to see a Ram forge a path in entertainment and follow their dreams. "I've been getting messages," she said. "They tell me, 'We are inspired. Someone from Chuck County Public Schools made it.'"
Excited for the tour, Sallee is focusing on his new gig and learning from his new groupmates. "I'm very inspired by them, they all are doing different things outside of the group," he said. "I want to stick my toe in all different areas. I love musical theater, I love acting, dancing, singing … I always wanted to be a quadruple threat."
Sallee said he gives all the glory to God, and encourages students in Charles County to not give up on their dreams. "To the dreamers, I hope this inspires them," he said of getting a chance to sing with Pentatonix. "There are no dreams too big."