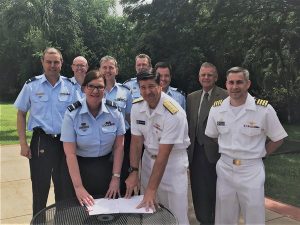 The U.S. Navy and Royal Australian Air Force (RAAF) recently signed a memorandum of understanding (MOU) to jointly develop the latest jammer technology.
The Airborne Electronic Attack Systems and EA-6B Program Office (PMA-234) and the Royal Australian Air Force (RAAF) will cooperatively mature the AN/ALQ-249 Next Generation Jammer Mid-band (NGJ-MB) capability from here forward.
Program Executive Officer for Tactical Aircraft Programs U.S. Navy Rear Adm. Mike Moran, PMA-234 Program Manager U.S. Navy Capt. Michael Orr, and RAAF Air Vice Marshal Cath Roberts attended the event held at U.S. Pacific Fleet Headquarters, Pearl Harbor, Hawaii, Oct. 18.
"This is a very important milestone for both nations," said Orr. "PMA-234 is officially a joint program office partnering with one of our allies. It took four years of communication and collaboration to get to this point, and I commend both nations for their dedication to this partnership."
The MOU provides the framework for communication, coordination and cooperation between the U.S. Navy and the RAAF during the NGJ-MB engineering & manufacturing development (EMD) phase.
You can read more about PMA-234 and NGJ-MB here.