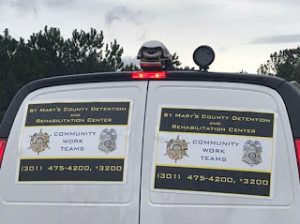 On October 16, 2017, the St. Mary's County Detention and Rehabilitation Center, (SMCDRC), had their first Community Work Team project.
The Community Work Team is a new program where non-violent, sentenced inmates, incarcerated at the SMDRC participate in projects to better the community. This new initiative is also part of an on-going Community "Outside" Detail where inmates have for several years assisted in many areas of the county with clean-up projects. This particular project consisted of two inmates, supervised by correctional officers, picking up trash and debris along the roadside of Pegg Road, and Chancellor's Run Road, in Great Mills. In a two hour period ten large bags of trash and debris were collected.
As of Thursday, November 2, two additional clean-ups in the community have been completed which removed additional bags of debris and trash. There are ongoing plans to increase the number of inmates and correctional officers to the detail in the near future.
The Community Work Team project is beneficial to St. Mary's County by improving the environment and quality of life for our citizens. The Community Work Team project provides inmates an avenue to do something useful with their time and offers them the opportunity to give back to the community. This program compliments ongoing efforts at the SMCDRC to teach skills, and earn equivalency degrees to reduce the recidivism rate within the county's correctional system.