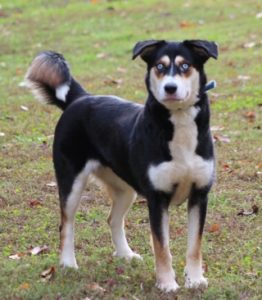 Wednesday's Pet for 11/8/17 JILLIAN
Featured Pet: Jillian
Rescue Group: Pets with Disabilities
Disability: Blind
Breed: Mix
Sex: Female
Size: Medium
Vetted: Spayed and Up-to-date with routine shots
Adoption Fee: $300.00
Talk about divine intervention, Jillian was found lying on the roadside right next a church on a hot Sunday morning.  It was over 100 degrees when a kind couple came to her rescue. They offered her some water and soon realize she was blind. This couple became her first angel; they waited over 2 hours for their local animal control to come get her to the safety of their local shelter. This couple went to visit her weekly, until she was transported to Pets With Disabilities.  The shelter named her "sweet girl"' and we all understand why!
She is a stunningly beautiful dog, inside and outside, easy going, quite, gentle, mild mannered, good on lead.  Jillian would make a great addition to any family.
Jillian has been evaluated by our eye specialist, and is now under her care.  She is receiving eye drops and meds, and will undergo further diagnostic testing next week to see if she might be a candidate for cataract surgery to regain her sight. We will keep you updated!
Jillian was a wonderful ambassador for all our blind dogs at our recent open house. She spent most of the day meeting people and all the visiting dogs. She is very good on leash and enjoys a good trail walk at the rescue.  She is a young energetic dog – very connected to her people.
If you are interested in meeting her, please complete an Application
http://www.petswithdisabilities.org/adoptionapplication.doc and email it to [email protected].
A little bit of breed information:
Mixed breed dogs are generally healthier than purebred because they draw from a broader gene pool. When adopting a mixed breed dog, focus more on personality rather than breed. This can help so that you appreciate the dog even more. Love him on his own terms and he will love you back more.
"He is your friend, your partner, your defender, your dog. You are his life, his love, his leader. He will be yours, faithful and true, to the last beat of his heart. You owe it to him to be worthy of such devotion."
– Unknown