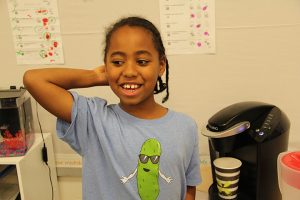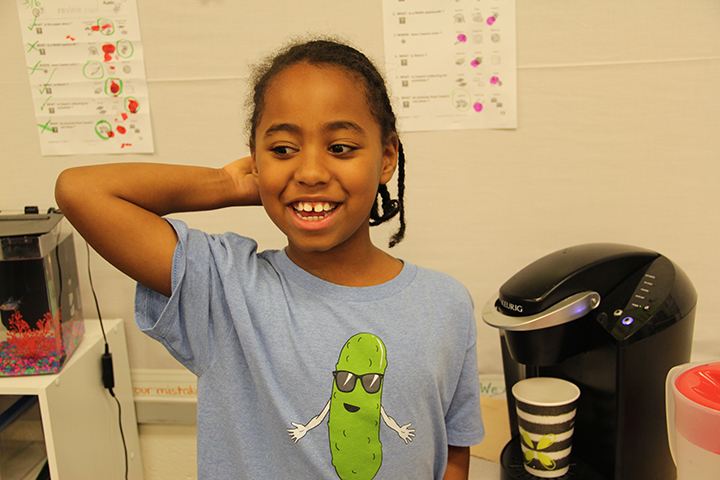 Every other Friday at Dr. Thomas L. Higdon Elementary School, excitement brews. It's when Café Skillz opens its doors for teachers and staff who need a late morning caffeine buzz or sugar rush.
Kimberly McCloskey's Life Skills class runs a coffee shop, providing Keurig-brewed coffee and tea, along with scones, cookies and brownies. Everything sells for 50 cents, but the students are getting a wealth of experience.
"Money skills, communication and social skills, color recognition," McCloskey lists off the lessons her students learn through running the shop. "They're learning to follow steps to complete a task. It's a fun way to incorporate those skills with something they enjoy doing."
Money raised through the shop goes toward purchasing materials for the classroom and defraying costs of any community trips the class may take, McCloskey said.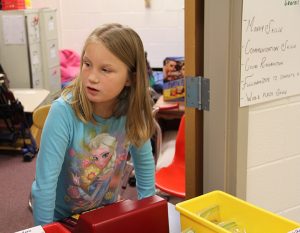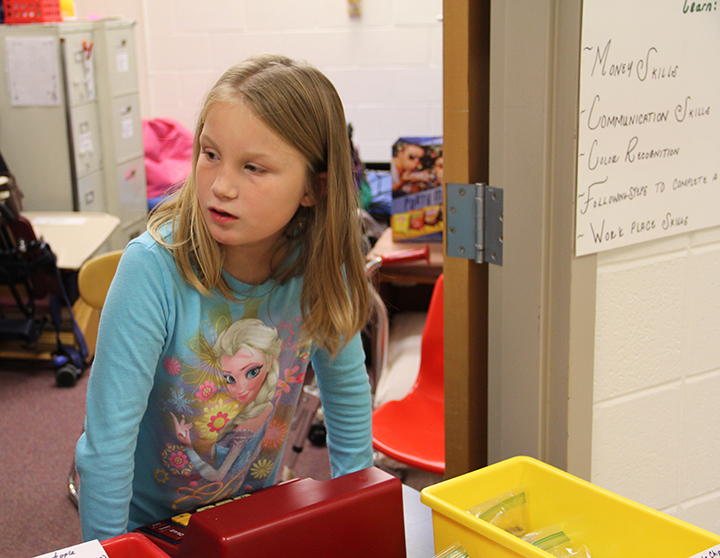 The students rotate through positions — cashier, greeter, barista — and everyone has a job. Lily Cusack uses a GoTalk device to communicate "Good Morning" and "Goodbye" to customers. Margaret Allen takes orders and makes change for customers. Tykiem Chase pops capsules into the Keurig and presses the start button. An adult handles taking the to-go cup from the machine and secures the lid before Chase delivers it (using both hands) to the waiting customer.
Teachers and staff line up to get their caffeine fix and chat with the students who light up the longer the line gets.
"We can really use the coffee today," said Lisa Barrett, a kindergarten teacher in the midst of working on report cards. It's more than the French vanilla and hazelnut flavors that keep customers coming back. "It's the attitude of the kids," said kindergarten teacher Anna Muscolino.
"We come here whenever it's open," said Courtney Beale, a third-grade teacher. "They take care of us teachers."