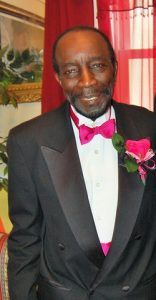 Will passed from this life on the evening of November 10th after a decline in health. He was born in Middleburg, North Carolina but has spent the majority of his life in the Maryland area with his last residence being in Port Tobacco.
He served in the United States Air Force for 23 years and retired as Technical Sergeant specializing in telecommunications. After his retirement, he attended Maryland University and graduated with a Master's Degree.
He attended Church at Bolling AFB and was regularly responsible for reading the scripture during the weekly Sunday services. He was a Mason and was very computer savvy. He also loved to bowl and play poker.
His first marriage was to Shirley Jones. He later married Suzanne Serena Burgess 1968, and they had a combined family with eight children.
Will is survived by 4 sons: Wilbert J. Bullock, Jr. (Ric); Andrew D. Bullock; Vance W. Burgess, Terrence L. Bullock; and 2 daughters: Enid M. Morton and Denise W. Bullock and is predeceased by his wife, Serena Bullock, and 2 sons: Gene and Vernon Bullock. He is also survived by his brother: Horace P. Bullock, grandchildren, great grandchildren, nieces and nephews and friends too numerous to mention.
On Monday, November 20, 2017 viewing of remains will be held from 10am—11am immediately followed by a memorial service at Brinsfield-Echols Funeral Home, 30195 Three Notch Road, Charlotte Hall, MD 20622.
The burial will be held at a later date at Arlington Cemetery.