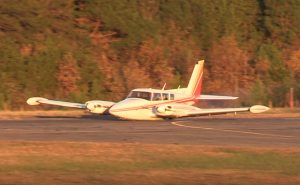 On Monday, November 20, 2017, at approximately 2:45 p.m., firefighters and emergency personnel were dispatched to the St. Mary's County Regional Airport on Airport Road, in Hollywood, for the report of a airplane in distress.
The pilot reported he was experiencing a problem with his landing gear. The pilot circled the area to burn off fuel as first responders awaited his emergency landing.
At approximately 4:30 p.m., the 1966 Piper PA-30 multi-engine aircraft touched down without landing gear. The pilot was uninjured.
The plane is registered to Atlantic Aero Marine Inc., out of Seaford, Delaware.