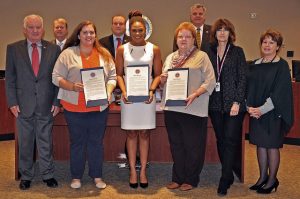 Giving Tuesday, recognized on the Tuesday following Thanksgiving, is a national day of giving and celebrates philanthropy and volunteerism where people give whatever they are able to.
Giving Tuesday is a day for citizens to work together and share commitments, rally for favorite causes, build a stronger community and think about others. In that spirit the Commissioners of St. Mary's County held a ceremony to celebrate Giving Tuesday 2017.
"It is fitting and proper on Giving Tuesday and every day to recognize the tremendous impact of philanthropy, volunteerism and community service in St. Mary's County," said Commissioner Todd Morgan (4th District). "Citizens and St. Mary's County Government employees are encouraged to serve others throughout this holiday season and during other times of the year."
County employees demonstrated their commitment to the community by contributing more than $9,000 during last year's campaign to the United Way and to Community Health Charities. Employees are being challenged in this year's campaign to exceed their contributions.
In proclaiming the day Giving Tuesday, the Commissioners of St. Mary's County acknowledge the United Way of St. Mary's County and Community Health Charities for their involvement in this globally recognized day of benevolence. They also encourage citizens to join together and give back to the community in any personally meaningful way.