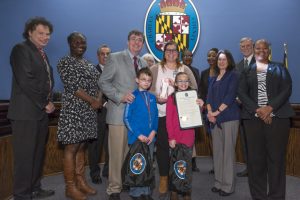 On Tuesday, Nov. 28, the Board of Commissioners proclaimed Adoption Awareness Day in Charles County.
Adoption Awareness Day acknowledges and celebrates the willingness of resource parents and their families to provide a loving, supportive, and permanent home to foster children of Charles County.
The County Commissioners recognize the Department of Social Services and all those who help provide children with a stable, loving family with relationships that last a lifetime.
Photos of the event are available online at www.flickr.com/photos/charlescountygovernment/sets