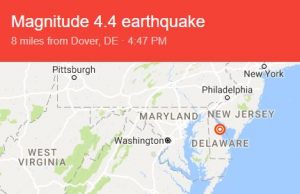 On Thursday, November 30, 2017 at approximately 4:47 p.m. the U.S. Geological Survey equipment recorded an earthquake 8 miles North East of Dover, Delaware at a preliminary 4.4-magnitude.
SMNEWSNET was contacted by residents in Prince George's County who reported having felt the earthquake for a few seconds.
Details will be provided as they become available.