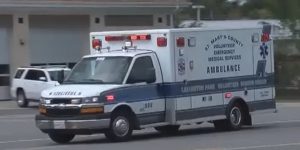 On Friday, December 1, 2017, at approximately 10:00 a.m., police, fire and rescue personnel responded to a residence on Ambrosia Lane, in California, for a report of an infant struck by a vehicle.
The child was conscious, alert and being treated by a nurse, when first responders arrived on scene.
The 15-month-old and mother were both said to have been hit by a van.
The mother was uninjured and accompanied the child to Children's Hospital by Maryland State Police helicopter.