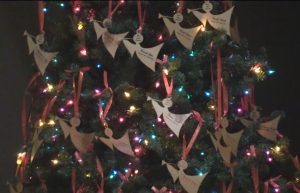 The Silent Angel Memorial was established to provide support and comfort to the survivors of homicide by gathering with others who understand their grief.
The memorial was founded by Eileen Bildman and dedicated to the memory of all Silent Angels. With the loss of her son came this opportunity to give back to the community, as her son would have wanted. This memorial brings families and friends together during the holiday season and helps various organizations in St. Mary's County throughout the year.
The 16th Silent Angel Memorial honoring the Silent Angels of St. Mary's County whose lives were lost by the hands of another, was held on Sunday, December 3, 2017 @ 6 p.m. at the Bay District Volunteer Fire Department, in Lexington Park.