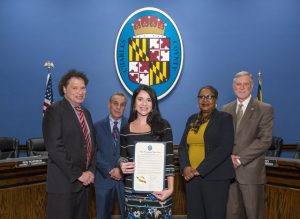 On Tuesday, December 5, 2017,, the Charles County Board of Commissioners recognized the Chesapeake Bay Foundation for celebrating 50 years of service.
The Chesapeake Bay Foundation is a non-profit that has advocated for and achieved nationally heralded legislative and executive policies on behalf of the Chesapeake Bay. The foundation has also restored vast acreage of critical habitat, natural filters, and oyster reefs with the bay, as well as provided award winning outdoor environmental education to more than one million students. Visit www.cbf.org/ to learn more about the Chesapeake Bay Foundation.
Photos of the event are available online at www.flickr.com/photos/charlescountygovernment/sets.