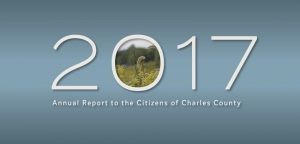 The 2017 Annual Report is available online for public viewing.
The Annual Report offers a comprehensive look back at 2017.  The report highlights the County Commissioners' legislative actions during fiscal 2017, budget allocations, performance measures, and county government projects.
Visit www.CharlesCountyMD.gov/AnnualReport, to view or download a Portable Document Format (PDF) version of the annual report. Adobe Reader is required to view PDF files.
A limited quantity of printed copies of the 2017 Annual Report are available on request. If you would like to receive a printed copy of the report via U.S. mail, contact Donna Fuqua at FuquaD@CharlesCountyMD.gov or 301-885-2779.