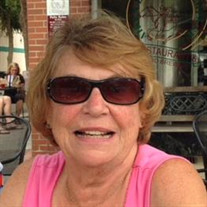 Funeral services for Gertrude Lorranie Allday, 82, of Aiken, will be celebrated at 10 a.m. Friday, December 8, 2017, at the Chapel of GEORGE FUNERAL HOME. Burial will be private. In lieu of flowers, memorial donations may be made to SPCA Albrecht Center for Animal Welfare, in memory of Lorraine Allday, 199 Willow Run Road, Aiken, SC 29801.
Mrs. Allday, widow of Bobby F. Allday, passed away on Friday, December 1, 2017. Born in Cheverly, Maryland, she was a daughter of the late Ollie and Bessie Stewart Conwell. She was a retired nurse. Mrs. Allday was a member of the American Quarter Horse Association for over 40 years and a AQHA Judge for over 30 years. She was a lifelong equestrian. She and her late husband raised multiple champions. She loved her dogs, specifically her 2 late Jack Russells, Biscuit and Grits, as well as recently losing her dog Lost.
In addition to her parents and husband, she was preceded in death by a brother, Ollie Eugene Conwell, Jr.