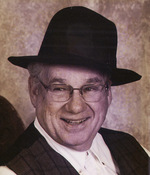 Thomas Edward Corbett, "Pops", 84, of California, MD formerly from Forestville, MD passed away in his home. Born on November 29, 1933 in Yonkers, NY, he was the son of the late Helen Corbett and Frank Corbett. Thomas was the loving husband of the late Patrician Ann Corbett, whom he married on September 23, 1954 in Washington, DC and who preceded him in death on October 10, 2002.
Thomas is survived by his children; Sharon Ann Kline of La Plata, MD, Michael E. Corbett of Thornton, CO, Stephen P. Corbett of La Plata, MD James J. Corbett, Thomas J. Corbett of Waldorf, MD, John C. Corbett of California, MD, 8 grandchildren and 7 great grandchildren. In addition to his parents Thomas was preceded in death by his son, Patrick J. Corbett and his brother Francis Corbett.
He graduated from Empire high school in1951. Thomas served in the United States Navy for 4 years from July 1, 1952 to June 13, 1956. While serving in the Navy, he was stationed in Guantanamo Bay, Cuba and earned the National Defense Service Medal. He moved from Prince George's County, MD to St. Mary's County, MD in 1994. Thomas worked for C & P Telephone as a Communications Specialist as well as the Smithsonian for years, retiring in 1995.
He was an honorary member of the Hollywood Volunteer Fire Department, as well as a member of the American Legion, Moose Lodge, and Knights of Columbus #4076.
The family will receive friends on Thursday, December 14, 2017 from 10:00AM to 11:00 AM in the Mattingley-Gardiner Funeral Home Leonardtown, MD. A Funeral Service will follow at 11:00 AM in the Funeral Home Chapel with Father Ray Schmidt officiating. Interment will follow in St. Michael's Catholic Cemetery Ridge, MD.
Pallbearers will be; Tom Corbett, Jay Corbett, Vic Kline, Jim Corbett, Tom Corbett, and John Corbett. Honorary pallbearers will be; Mike Corbett and Steve Corbett.
Arrangements provided by the Mattingley-Gardiner Funeral Home, P.A. Leonardtown, MD.