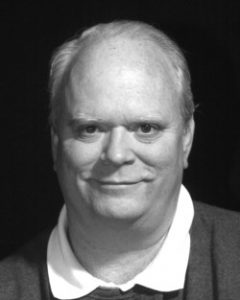 Keith Williams, 60, of Hollywood, MD passed away on December 1, 2017 surrounded by his family.
Keith was born on March 25, 1957 in Columbus, Ohio to the late Gordon Curtiss Williams and Rita Ann (Jennings) Williams.
He married the love of his life, Patricia Mary (Martin) on March 6, 1983. Together they have six children. Thomas Jennings, Edward Gordon (Morgan Dobson), Bradley Matthew, Geoffrey Curtiss (Justine Karstens), Emma Mary, and Jake Andrew. Grandchildren, Henry, Jude, Carson, Theodore and Adleigh. Siblings, Leslie (Mark Beech), Pamela (Lindsey Beyer), Beth (Alan Vandergrift) and Greg (Sheryl).
He was a contractor on Patuxent River and worked in a warehouse for Eagan and McCallister, SAIC, and Imagine One. He loved theatre and was active in Newtowne Players. He wrote many plays, directed and acted in plays. He attended the University of Dayton and left to attend the Second City School of Acting. He was a loyal and devoted Chicago Cubs fan. He loved the game. He was an avid reader and stayed informed on all political issues. He will be missed by his family. He had the ability to make people laugh and bring levity even in the most difficult times. He adored his wife, was proud of all his children, and enjoyed his grandchildren, strongly bound to his siblings, nieces, nephews and cousins, and had close friendships cultivated at UD which continue to this day.
A Viewing will be held at St. John Francis Regis Catholic Church in Hollywood, Maryland by Rev. Raymond Schmidt on Saturday, December 9, 2017 at 9:00 a.m. for family, and 10:00 a.m. for friends. A Mass of Christian Burial will be held at 11:00 a.m. Interment will follow immediately at the church cemetery. Everyone is asked to wear a baseball cap at the gravesite for one final rendition of "Take me out to the ball game". He's in the BIG LEAGUE now, playing with his favorite team.
Donations can be made to the ST. MARYS COUNTY SPECIAL OLYMPICS, where his son Jake is a star athlete. The address is 28625 Flora Corner Road, Mechanicsville, MD 20659.