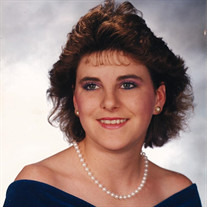 Linda Sue Yates, formerly of Charles County, Maryland, died on December 8, 2017 at her residence in King George, Virginia.
Born on August 1, 1970, she was the daughter of the late John Frank Yates, Sr. and the late Mary Jane Farrell. In addition to her parents, she was also predeceased by her son, Jonathan Hunter Harding and her sister, Teresa Lynn Yates.
She worked most of her life in customer service and loved people. Her greatest joy in life came from spending time with her daughter, Autumn Lynn.
She is survived by her daughter, Autumn Lynn Harding; her long-time friend, Adrian Harding; her step-father, James Farrell; her brother, Johnny Yates (Sandy); her sisters, Lori Hudson (Gene) and Marty Young (David); and numerous nieces and other relatives and friends.
Friends received on Saturday, December 16, 2017 from 12:30PM until time of Funeral Service at 2PM at Raymond Funeral Service Chapel, 5635 Washington Avenue, La Plata, Maryland 20646.
Memorials in Linda's name are asked to the Jude House, Inc., PO Box 1057, La Plata, Maryland 20646.