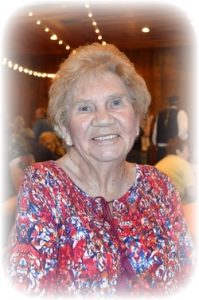 Ruth Emily Norris, 88, of Hollywood, MD passed away on December 17, 2017 at Hospice House of St. Mary's surrounded by her family.
Ruth was born on April 25, 1929 to the late Daniel Webster Lacey and Virginia Hill.
In January 1947 she married her late husband, Herbert Eugene Norris, Jr. in Chaptico, MD. Together they celebrated over 57 wonderful years of marriage until his passing in December 2004. She was employed for over 32 dedicated years at St. Mary's Hospital as a Nursing Assistant until 1975. In 1975 she continued her career at St. Mary's County Health Department until her retirement in 1992. In retirement she worked private duty in Home Health care for several years, before fully retiring. Ruth enjoyed canning during the summer and she was an avid quilter. She was a long time member of St. John Francis Regis Catholic Church in Hollywood, MD.
Ruth is survived by her children: Larry E. Norris of Leonardtown, MD, Phyllis J. Anderson (Russ) of Hollywood, MD, Thomas A. "Tony" Norris (Pat) of Piney Point, MD, Lois A. Dill (Ron) of Mechanicsville, MD, D. Wayne Norris (Eleanor) of Avenue, MD, Wanda L. Loheed (Rick) of Valley Lee, MD, Bonnie S. VanShoubrouek of Slidell, LA, and J. Michael Norris (Lori) of Leonardtown, MD; her siblings: Palmer Lacey (Sara) of Leonardtown, MD, Thelma Futral of Pensacola, FL, Alice Dubnar of Charlottesville, VA, and Francis Lacey (Pat) of Hollywood, MD; 21 grandchildren; 25 great grandchildren, and many extended family and friends. In addition to her parents and husband she is also preceded in death by her son, Alan Norris; and her siblings: Marie Lucas, Richard Lacey, Robert Lacey, Hazel Thomas, William Lacey, James Lacey, Mary Margaret Miedzinski, Laurence Lacey, Eleanor Lacey, Martha Ellis, Leonard Lacey, and Christine Lacey.
Family will receive friends on Friday, December 22, 2017 from 10:00 to 11:00 a.m., with a Funeral Service celebrated by Reverend Raymond Schmidt, at Brinsfield Funeral Home, P.A., 22955 Hollywood Road, Leonardtown, MD 20650. Interment will follow at Charles Memorial Gardens in Leonardtown, MD.
Serving as pallbearers will be Larry Norris, Tony Norris, Wayne Norris, Mike Norris, Rick Loheed, and David Norris.
Memorial contributions may be made to Hospice House of St. Mary's, P.O. Box 625, Leonardtown, MD 20650.