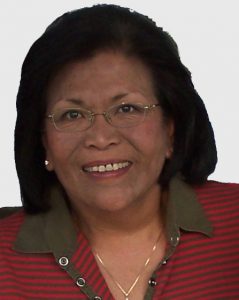 Maria Lorgina Denyer, of Chesapeake Beach, passed away peacefully at her home on December 14, 2017. She was surrounded in love by her husband, Robert Denyer, sister Rebecca Lopez, daughters Jorgina Colyn and Cheryl Keys, son-in-law David Keys and grandson Austin Bean.
Maria was born August 13, 1951 in Cebu City, Philippines to Rosario and Ricardo Lopez. Maria and her sister immigrated to the United States in 1966. She graduated from Oxon Hill High School in 1968. Shortly after, she met and married Robert Denyer, US Marine and they began their lives together. Maria was a very loving wife, mother and grandmother. Her family was her most prized possession and greatest achievement. Her generosity and thoughtfulness to every one she met, knew or loved was limitless. Good luck stopping her from giving you the shirt off of her back or the food from her plate. She wouldn't hear of anything less.
Maria is survived by her husband, Robert Denyer, sister Rebecca Lopez, two children, Jorgina Colyn and husband Peter, of Chesapeake Beach and Cheryl Keys and husband David of Huntingtown, MD and four grandchildren, Nathan Budd, Sydney Budd, Austin Bean and Aiden Bean, and two step grandchildren Sophie Keys of Caro, MI and Mary Beth Colyn of Huntingtown, MD.