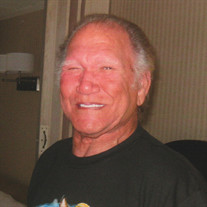 Charles Wade Simpson,75, of Upper Marlboro, MD passed on Sunday December 17, 2017 in his home. Born in Washington, DC he was a son of the late Charles A. and Teresa M.(Frese) Simpson. He was the beloved husband of Christina Lee (Woolwine) Simpson.
They celebrated their fourth wedding anniversary on August 10, 2017. He was a United States Navy veteran. He was an automotive mechanic and he also drove bus for PG County Schools. Charles loved to golf, boating, water skiing, going to the beach, and spending time with his family.
Along with his wife he is survived by his children; Brian E. Simpson, Sandra Lee Martin, Teresa Marie Cooper(Brian), Kimberly Ann Fuller(David), and Donald Neil Finotti(Sally), seven grandchildren, three great-grandchildren, and a sister Ursola Sandra Stickell. In lieu of flowers contributions in his name may be made to the Hospice of The Chesapeake.