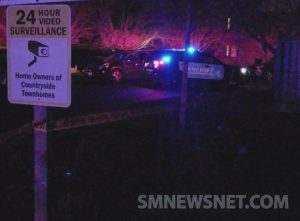 On Saturday, December 23, 2017, at approximately 6:05 p.m., deputies from the St. Mary's County Sheriff's Office and Troopers from the Maryland State Police Leonardtown Barrack responded to Ronald Drive, in Lexington Park, for the report of shots fired.
One witness told SMNEWSNET they heard 4 or 5 shots and saw a car in the parking lot that was "shot up".
Police were in the area searching for a victim and other evidence related to the incident.
Cpl. Julie Yingling, the Interim Public Information Officer for the St. Mary's County Sheriff's Office told SMNEWSNET there was evidence of shots fired, and that Crime Lab Technicians, and Detectives from the Criminal Investigations Division are responding to the scene to investigate.
Updates will be provided as they become available.