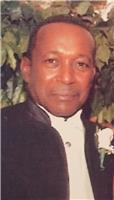 In his majestic wisdom, our Heavenly Father, who is perfect in all actions, called our beloved Joseph Leroy Wilson, Sr., to his eternal home.
Joseph Leroy Wilson, Sr. was born on September 8, 1949 to the late Mary Margaret Wilson-Feazell and Joseph Leroy Bush. Known to his family as Roy, Leroy or Hicks, he departed this earthly life suddenly Sunday, December 17, 2017 at Southern Maryland Hospital, Clinton, MD.
Roy received his education in the St. Mary's County Public School system. His career started at an early age in the agricultural industry in St. Mary's County, MD. In the late 70s, he worked as a cement finisher for many construction companies. Roy had a reputation in the cement business for quality workmanship, dependability, reliability and professionalism. He worked throughout the Maryland, District of Columbia and Virginia areas until his death.
On October 22, 2005, Roy and Karen were united in holy matrimony, and from this union two children were born,Torian and Torez Wilson. Roy and Karen had a relationship together for 37 years.
Roy knew that life was about being happy, and found great joy in collecting and restoring classic cars, hand dancing, listening to classic soul music (especially Curtis Mayfield), and spending quality time with his friends, attending car shows or wiping down his cars. On September 18, 1993 Roy was initiated as a Free and Accepted Mason, Acacia Lodge, Number 25, Prince Hall Grand Lodge of the District of Columbia.
Roy enjoyed his social life. He and Karen attended numerous cabarets, parties, and family reunions throughout the DMV area. Roy was a courageous and incomparable family man. Roy loved his family unconditionally and will always be remembered for his loving personality, immeasurable generosity, and contagious smile. Roy brought love and joy to everyone that knew him; a devoted husband, father, grandfather, great-grandfather, uncle, cousin and friend. He was well known and loved by all.
Throughout his battle with multiple myeloma, Roy fought admirably and never complained. Although his body finally gave out, his courage never wavered. He will always remain "Forever In Our Hearts."
Roy was preceded in death by his parents, stepfather, Herman Feazell; stepmom, Jeanette Bush; aunts, Doris Briscoe, Christine Chavis, Margaret Thompson (Ronald), Lucille Makle, Pearl Holton (Andrew), Rosie Thomas (Philip), Madeline Woodland (Charles) and Alice Hicks; uncles, Bernard Wilson, Joseph Wilson (Christine), William Wilson (Redd), Aloysius Wilson (Nancy), and Harry Hicks (Catherine); maternal grandparents (Margaret and Dent Wilson) and paternal grandparents (Ida and Charles Hicks).
Roy leaves to cherish memories, his loving wife, Karen Wilson of Waldorf, MD; his daughter, Vonda Jones (William) of Upper Marlboro, MD; sons, Joseph Leroy Wilson, Jr. (Mary) of Newport, MD; Torian Leroy Wilson and Torez Joseph Wilson of Waldorf, MD; stepson, Francis Reed of Forestville, MD; one brother, Larry Bush (Donna); one sister, Annette Renfrow; five grandchildren, Travon and Jazmen Jones, Kaylyn (Summer) Wilson, Markia and Khalil Reed, and one great-granddaughter, Mercy Jones.
He is also survived by his mother-in-law, Rosetta Gough; father-in-law, Thomas Gough (Barbara Ann); two aunts, Helen Thomas and Rachel Wilson; four uncles, Nathaniel Thomas, Charles Hicks, James Makle, and Wesley Chavis; brothers-in-law, Maurice Robinson (Valerie), Thomas S. Gough, Allen Miles (Tuesday), Wayne Miles, Stephon Miles and Kemit Miles (Sherry); sisters-in-law, Erika Jones (Sidney), Melanie Miles, Mary Miles (Terri), and Sonya Miles; Godsons, Derek Hebb, Trent Young and Joseph Wilson, as well as a host of nieces, nephews, numerous family members and friends.
Family and friends will unite on Tuesday, December 26, 2017 for visitation at 9 am until Mass of Christian Burial at 10 am at St Joseph's Catholic Church, 29119 Point Lookout Rd, Morganza, MD 20660. Interment to follow at St. Francis Xavier Church Cemetery, Newtowne Neck Rd, Compton, MD. Arrangements by Briscoe-Tonic Funeral Home.