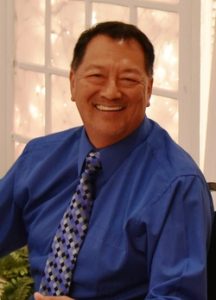 William Eric Chin, loving son of Willie and Betty Chin, passed away on December 19, 2017. He is survived by his wife, Kara and daughter, Aspyn; his sons, Eric Chin (Michelle) and Ryan Chin; two beautiful grandchildren, Cooper and Allison; his sisters, Wanda Reuille (Mike) and Nadine Aubel (Rick).
William graduated from Southern Bible College with a BA in Ministry. After graduation, he became a youth pastor at Calvary Grace AG, Full Gospel AG and Glen Burnie AG and eventually became a superintendent for heavy construction
William enjoyed soccer, golf, camping and campfires, and watching his favorite teams, Ravens and Orioles. William's love for his children was unconditional and he was very proud of them. He will be remembered as the "comedian" who could make everyone laugh.
A Memorial Service will be held on Friday, December 22 at Encounter Christian Center at 30080 Henry Lane, Charlotte Hall, MD 20622 from 4PM to 6PM for viewing / fellowship, then 6PM to 6:30PM for prayers / service, followed immediately by a reception. Interment is private.
Family is asking in lieu of flowers, to please place donations towards Aspyn's college savings https://www.troweprice.com/usis/go-tuition-gift/maryland-529/8c9eaccaa65541f6bdadb73a5dd8f1f2
Thank you for all the support and prayers.
MEMORIAL GATHERING on Friday December 22, 2017, 4:00 PM – 6:00 PM at Encounter Christian Center.
PRAYER SERVICE on Friday December 22, 2017, 6:00 PM at Encounter Christian Center.