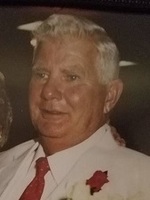 William A. "Billy" Guy, 86, a lifetime resident of Mechanicsville, MD, passed away on December 20, 2017. Born on June 27, 1931 in Clements, MD, he was the son of the late Genevieve Johnson Guy and Norman Aloysius Guy, Sr. Billy is survived by his wife of 67 years, Roberta Eleanor Pilkerton Guy whom he married on October 10, 1950 at Immaculate Conception Catholic Church. He preceded in death by his brother, Norman Guy Jr. He is survived by his siblings Jackie Guy (Peggy), Phyllis Bowling, Betty Rose Wood (Jimmy), 8 children; Sandra Vallandingham (the late Roger Lee), Eddie Guy (Margie), Joanne Guy, Artie Guy, Tim Guy, Missy Finch (Steve), Bonnie Russell (John Curley), Pat Guy (Mary), 13 grandchildren Terry, Tammy, Jason, Randy, Colleen, Lindsey, Laura, Luke, Megan, Heather, Lindsey, Marie, Michael, 6 great grandchildren, and one great-great grandchild.
Billy and his brother Jackie started J.C. & W.A Guy, later named Guy Excavating, in Mechanicsville MD in 1963. He was a lifetime charter member and past Captain of the Mechanicsville Volunteer Rescue Squad, a member of the Mechanicsville Volunteer Fire Department, and the Mechanicsville Lions Club. He served on the St. Mary's County Planning and Zoning board for 10 years. Billy served in the Maryland National Guard from 1947 to 1963. He loved to fish and enjoyed spending time with his friends and family, dancing with the Country Music Club, traveling in his motorhome, and restoring his tractors.
The family will receive friends on Friday, December 22, 2017 from 5:00PM to 8:00PM with prayers recited at 7:00PM, and Fire Department and Rescue Squad prayers to follow at 7:15PM in the Mattingley-Gardiner Funeral Home, Leonardtown, MD.
A Funeral Service will be held on Saturday, December 23, 2017 at 10:00AM in the Funeral Home Chapel with Father Michael Tietjen officiating. Interment will follow in Queen of Peace Cemetery, Helen, MD
Pallbearers will be Randy Raley, Jimmy Herbert, Andy McWilliams, Mike Roache, and his grandchildren.
In lieu of flowers, the family requests donations be made to MVRS P.O. Box 15 Mechanicsville, MD 20659, MVFD P.O. Box 37 Mechanicsville, MD 20659, or Lions Club P.O. Box 512 Mechanicsville, MD 20659.