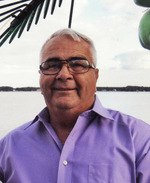 Thomas Jarrott "Jerry" Clements, 73, of Leonardtown, MD passed away at his home surrounded by his loving family on December 21, 2017. Born on November 9, 1944 in California, MD, he was the son of the late Evelyn Ruth Clements and Martin Louis Clements. Jerry was the loving husband of Mary Lillian Clements, whom he married on June 25, 1966 in Our Lady's Catholic Church Leonardtown, MD.
Jerry is survived by his children; Tom Clements, (Caty) of Leonardtown, MD, Shane Clements (Vicky) of California, MD, 5 grandchildren and 3 great grandchildren. As well as, his siblings; James Louis Clements, Ruth Evelyn Johnson, Joseph Allen Clements, Alma Louise Blackwell, Patricia Geneive Abbott, Janice Kay Skafidos, and Robert Bryon Clements. He is preceded in death by his son Timmy Clements, also his brothers David K. Clements and Ronald Wayne Clements. He was a lifelong St. Mary's County resident and a graduate of Leonardtown High School. Jerry worked for the Charles County Board of Education as an HVAC technician and mechanic for 25 years, retiring on July 1, 2008. He was a member of the Moose Lodge, Jerry enjoyed golf, camping, square dancing and loved spending time with his grandchildren.
The family will receive friends on Tuesday, December 26, 2017 from 5:00 PM – 8:00 PM with prayers recited at 7:00 PM in the Mattingley-Gardiner Funeral Home Leonardtown, MD. A Mass of Christian Burial will be held on Wednesday, December 27, 2017 at 10:00 AM in Our Lady's Church at Medley's Neck Leonardtown, MD with Father Paul Nguyen officiating. Interment will follow in Charles Memorial Gardens Leonardtown, MD. Pallbearers will be; Ray Knott, III. CJ Knott, Jr., William Abell, Sonny Copsey, Ken Hodkiewicz, and Mike Daugherty. Honorary Pallbearers will be; Buster Evans, Jeff Wells, Timmy Pilkerton, Bay Evans, and Remi Belerger.
Contributions may be made to the American Cancer Society 405 William Court, Suite 120 Baltimore, MD 21220.