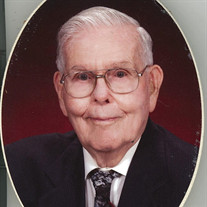 Adrian Protsman Sutten, age 99 of La Plata, Maryland, died December 19, 2017 at the University of Maryland Charles Regional Medical Center.
Born August 15, 1918 in Fitzgerald, Georgia, the son of the late Joseph A. Sutten and Grace Hageman Sutten. He was also predeceased by his brothers, John W., Charles A., Robert L., and a sister, Nellie Grace.
He was raised in Washington, Iowa, graduating from Iowa Wesleyan College and attending graduate school at Iowa State College. he graduated with a B.S. in Physics. After college, he was employed by the U.S. Government at the U.S. Harry Diamond Laboratories in Washington, DC where he worked as a Physicist on electronic faze development, stationed at Blossom Point Test Facility starting in 1942. He retired in 1980 as Chief of Field Test Operations at Harry Diamond Labs.
La Plata has been his home since 1942 where he met and married the late Margaret Alger "Peggy" Sutten and were married in 1945.
He was a member of the La Plata United Methodist Church, The Lions Club of La Plata, and St. Columba Lodge #150 of the Masons.
He was active in establishing the Boy Scouts in Charles County serving as Cub Master, Scout Master, and Vice Chairman of the Southern Maryland District.
He was President of the La Plata Lions Club 1997-1998 and a Melvin Jones Fellow.
Husband of the late Margaret Alger Sutten; father of Stephen R. Sutten (Anna Cherry) and Jeffrey J. Sutten (Annie); grandfather of Jesse, Brent, and Lauren; and great grandfather of Liam.
Friends received on Thursday, December 28, 2017 from 2-4PM and 6-8PM with Masonic and Lions' Club services at 7PM at La Plata United Methodist Church and where Funeral Service will be held on Friday, December 29, 2017 at 11AM. Interment at church cemetery.
Memorials to Adrian Sutten Memorial Scholarship at the College of Southern Maryland, c/o CSM Foundation, PO Box 910, La Plata, MD 20646.