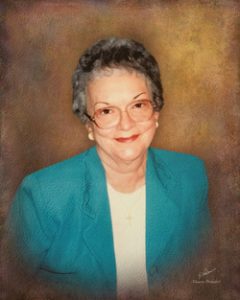 Helen Louise Robinson, 87, of Mechanicsville, Maryland died on Friday, December 22, 2017 at MedStar Washington Hospital Center. Helen was the oldest of three children born to Arthur Bryan Cutright and Elene Marjorie (McLean) Cutright.
She grew up in Grafton, West Virginia and was a graduate of Grafton High School (1948) and Davis and Elkins College (1952). She earned a Bachelor of Science degree in chemistry and worked for a short time at Western Electric in Baltimore, Maryland. On October 18, 1952, she married her college sweetheart, Bert, and moved to Waldorf, Maryland. Her life was fulfilled as a homemaker, raising her three children. Later in life, she enjoyed scrapbooking, gardening, reading, watching the Washington Redskins, attending Brad Paisley concerts, and spending time with her grandchildren. She was a founding and active member of St. Anne's Anglican Catholic Church in Charlotte Hall, Maryland where she served as the directress of the parish's Altar Guild.
In addition to her parents, she was predeceased by her husband of 39 years, Bert Paul Robinson, and her sister, Beverly Sue Secreto (Sam Jr.).
She is survived by her three children, Karen Elene Robertson, Richard (Robbie) Brian Robinson (Missy), and Paula Ann Coluzzi (Frank); her sister, Rosemary Elene O'Hara (David); five grandchildren, Nicolette and Caelan Coluzzi, Madison Robinson, (Virginia) Bree Sciascia and Christa Helene Loyer; six great-grandchildren, one niece, and three nephews.
Family will receive friends on Friday, December 29, 2017, from 2:00 p.m. to 4:00 p.m., and from 6:00 p.m. to 8:00 p.m., with prayers at 7:00 p.m. at Brinsfield-Echols Funeral Home, P.A., 30195 Three Notch Road, Charlotte Hall, Maryland 20622. Funeral services, officiated by The Right Reverend William McClean, Jr., will take place on Saturday, December 30, 2017 at 10:00 a.m. at Dent Memorial Chapel in Charlotte Hall, Maryland. Interment will follow at Trinity Memorial Gardens.
Pallbearers will be Robbie Robinson, Frank Coluzzi, Steve Abell, Matt Jaskiewicz, Luke Slay, and Dan Townshend. Honorary pallbearers will be Bill Bolesworth, Caelan Coluzzi, Ken Eschinger, Jim Larsen, and Walt St. Clair.
In lieu of flowers, memorial contributions may be made to St. Anne's Anglican Catholic Church Building Fund, P.O. Box 289, Charlotte Hall, Maryland 20622.