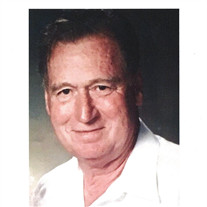 George Naylor Walls, 89 of Gladys, Virginia and Waldorf, Maryland died peacefully at his home on December 19th, 2017 surrounded by his loving family and his beloved dogs whom he adopted along the way.
George was born in Suitland, Maryland on November 18th, 1928 and was originally a tile setter by trade during the day, and a Washington Post newspaper carrier and distributor at night. He was also one of the early members of the Brandywine Volunteer Fire Department and Rescue Squad, and last but not least, the original owner, operator and most outstanding baker of Walls Bakery in Waldorf, Maryland for over 37 years.
He was also a WWII veteran of the United States Army and Constabulary Unit stationed in Germany, and years later upon returning to the United States, he enlisted into the United States Army Reserves.
His love and honor of our Lord and His Word was the guiding Light that led him to the paths that he had chosen, and we take comfort and rest in the truth, that one day we will be together and forever reunited again.
He was preceded in death by his loving and devoted wife, Christa S. (Dorr) Walls, sons, George Walls, Jr., David Walls, Steven Walls, Johnny Walls, Donald Walls, and grandson, Michael Raydean Howard.
He is survived by his son, Robert Walls, Sr.; daughter Christine Walls; and two daughters-in-law, Martha Walls and Dorothy Walls-Oliver.
In addition, he is also survived by his grandchildren, Robert Walls, Jr., Michael Joseph Walls, Mark Walls, Cynthia Walls, Christy Walls, Selena Walls, Teresa Walls; great-grandchildren, Ashley Farrell, Dezaree Brown, Gerald Farrell, Taylor Reynolds, Tyler Farrell, James Crawford, Jr., Savannah Herbert, Khyl Perry, James Quade, and Emily Walls; and great-great grandchild, Liam Farrell.
George would not want us to leave out his beloved dogs whom were at his side day and night, and are so cutely named after what he chose to call them on his farm in Gladys, Virginia. His cherished pets whom he adopted along the way were, Dog #1, Dog #2, Dog #3 (Pete), Big Dog, Marley, Tabby, Baby, Hope, Bella, Cairo and Blue.
A Visitation will be held on Wednesday, January 3, 2018 at Raymond Funeral Chapel, 5635 Washington Avenue, La Plata, Maryland 20646, from 5-8pm.
A Funeral Service will take place on Thursday, January 4, 2018 at Raymond Funeral Chapel at 11am. Internment will follow at Trinity Memorial Gardens, 3221 Mattawoman Beantown Road, Waldorf, Maryland 20601.
Memorials in George's name may be made to Centra Hospice Lynchburg, 3300 Rivermont Avenue, Lynchburg, Virginia 24503. (434) 200-3204