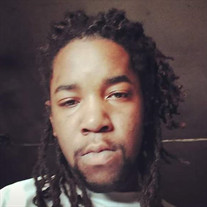 Travis Jermaine Dorsey, 22, of La Plata, MD passed away on Monday, December 25, 2017 at his residence.
Travis was born on February 1, 1995 in La Plata, MD to Jackie McClinton Lancaster, Sr. and the late Brenda Elaine Dorsey.
Travis was a loving father. He enjoyed playing video games and spending time with his brothers and sisters.
In addition to his father he is survived by his daughter Mariah Dorsey; step-mother Angela Fowler; three brothers; Jackie Lancaster, Jr, Isaiah Lancaster and Brandon Fowler; four sisters; Shirley Dorsey, Brittney Dorsey, Mary Lancaster and Briana Fowler and his girlfriend Skyler Ethridge.
Memorial service will be at a later date.
In lieu of flowers donations are requested to help with funeral expenses.