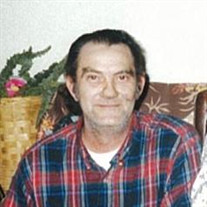 Felton Collins, age 73, of Waldorf, MD, died on December 24, 2017.
Felton was a Sawmill Worker with W.W. Bowie Sawmill in Pisgah, MD for more than 40 years. He attended the Rock Church in La Plata, MD. He enjoyed fishing, doing crafts, working on automobiles, bicycling, and an avid collector. He also enjoyed watching old movies, especially John Wayne movies, and wrestling on television.
Son of the late Roosevelt Collins and the late Maggie Collins. In addition to his parents, he is also preceded in death by his wife, Susan D. Collins; one stepson, Joe Finley; and three sisters, Inez Rogers, Clinis Slush, and Juanita Henderson.
Survived by three stepsons, Sonny Boy Wright, Jack Wright, and Ronnie Wright; one stepdaughter, Kathy Robertson; four brothers, Harold, Lowell, Donald,and Allen Collins; and two sisters, Ann Clark and Lois McCoy. Also survived by fourteen step-grandchildren.
Friends received on Friday, December 29, 2017 from 11:30am until time of Funeral Service at 1pm at Raymond Funeral Chapel, 5635 Washington Avenue, La Plata, MD 20646. Officiated by Reverend Joseph Crawford. Interment to follow at Trinity Memorial Gardens, Waldorf, MD.
Memorials in Felton's name are asked to the Newburg Volunteer Rescue Squad & Fire Department, P.O. Box 9, Newburg, MD 20664
Viewing is on DEC 29. 11:30 AM – 01:00 PM at Raymond Funeral Chapel, 5635 Washington Ave. La Plata, MD, US.
Service is on DEC 29. 01:00 PM at Raymond Funeral Chapel, 5635 Washington Ave. La Plata, MD, US
Burial is on DEC 29. 2:00 PM at Trinity Memorial Gardens, 3165 Mattawoman Beantown Rd. Waldorf, MD, US, 20601