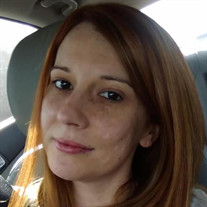 Blair Lindsey Boyd, 33, of Indian Head, Maryland, died on December 26, 2017 at the University of Maryland Charles Regional Medical Center in La Plata.
Born on April 19, 1984 in La Plata, Maryland, she is the daughter of Theresa Ann and Timothy J. Boyd Sr. Blair was a graduate of Lackey High School, Class of 2002. While at Lackey, she played softball, volleyball and Little League Softball. She was a Medical Receptionist working for Health Partners, Charles Regional Medical Center and MedStar St. Mary's Hospital and would volunteer, assisting people with their health care concerns. She had a big heart and enjoyed helping people. Blair was an avid fan of the Washington Nationals and the Washington Redskins. She loved spending time with her nieces, nephews and her dog Pooh.
She is preceded in death by her maternal grandparents, Janice and John "Jake" Boudreaux and her paternal grandparents, James Mansfield Boyd, Elizabeth Adams Wroble and Stanley Wroble.
In addition to her parents, Theresa and Tim, she is survived by her brother Timothy J. Boyd Jr. (Heather Cranford) and her sister Courtnie Beebe (Bryan Beebe); her nieces and nephews Kayleigh Boyd, Brooklyn Beebe, Parker Beebe, Alyssa Boyd, Jillian Beebe, Trevor Boyd and Ryleigh Boyd; aunts Linda Kidd and Maria Boyd Owens; uncles John Boudreaux and Dennis Boyd; also survived by numerous cousins, other relatives and friends.
A visitation will be held on Saturday, December 30, 2017 from 12 Noon until time of Service to begin at 1 PM at St. Mary Star of the Sea Catholic Church 30 Mattingly Avenue Indian Head, MD 20646. The interment to follow at St. Charles Cemetery in Glymont, MD.
Memorial contributions may be made to Life Styles of Maryland, Inc. P. O. Box 1794 La Plata, Maryland 20646.