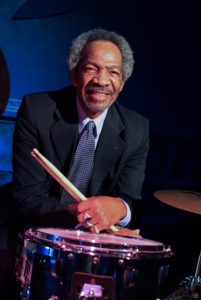 Harold S. Cardwell 1/9/1940 – 12/17/17
Born in Cincinnati, OH in January 1940 to Arthur and Harriett (Jones) Cardwell, Harold spent his formative years in Buffalo, NY where he graduated high school. He began his career as a professional musician playing drums at the age of 15. He later attended Youngstown University Dana School of Music in Youngstown, OH.
His musical career took him throughout the Unites States and Canada. Harold was given the moniker "Mad" Harold (which stood for Master at Drumming) by fellow drummer "Sticks" Hooper. He was a gifted percussionist who played not only drums but also congas, marimba, and even occasionally the vibes. He was passionate about music and especially jazz. During his career, he played with a number of well-known jazz musicians including JJ Johnson; Slide Hampton; Eddie Harris; Lou Donaldson; David Young; Steve Allee; Lori Meacham; Melvin Rhyne; Dr. David Baker; Steve Rudolph; his cousin Grover Washington, Jr; and long-time friend from high school, Dr. Lonnie Smith.
Residing in Indianapolis for 40 years, Harold led his own band during the late 70's through the mid-80's, and was a mainstay in the Indianapolis jazz community at local venues such as The Place to Start, Crazy Al's, Rick's Boatyard Café and The Chatterbox. He mentored many musicians throughout his career., including his cousin, Jozell Carter, also a well-known jazz drummer. He played extensively throughout the Midwest with Clifford Ratliff; Claude Sifferlin; Frank Smith; Kevin Anker; Matt Thompson; David Hepler; Fred Withrow; Earl Grandy; Bill Barnwell; Billy Wooten, William Roache and Emmanuel Riggins (Wooden Glass); Al and Rudy Finnell; Frank Stean; Kurt Kudemeyer; Bob Wilson; Billy Myers; Larry King; Joe Filipow; and Charles Bennett among many others too numerous to mention. As a fellow musician recently stated: "Harold played with EVERYONE!" His playing has been described by his colleagues as "polyrhythmic and melodic". He was honored in 2010 with the Ralph Adams Lifetime Achievement Award for his numerous contributions to the jazz genre.
In addition, Harold toured for six months with some of Motown's well-known artists in the 60's, and assisted on pre-production work and writing drum charts for other soul and R&B bands. He also recorded with the Dave Hepler Trio, Wooden Glass, and Grant Green. A privately distributed CD of Harold's live recordings with the Clifford Ratliff Quintet at the Jazz Kitchen from 1999 was produced and engineered by his wife.
Harold is remembered by family, friends, and colleagues as a true artist and consummate musician. His talents extended to landscaping, wood-carving, photography, and oil and acrylic paintings. He had a great sense of humor, and was known as a storyteller who gave the gift of laughter to others. He has also passed along his artistic and music talents to his children, most of whom play an instrument or draw and write poetry. Harold's career spanned nearly 60 years before he retired due to declining health.
Harold leaves the care of his memory to his wife, Teri (Nelson) Cardwell, Waldorf, MD; daughters Sonya A. Cardwell and Irene Y. Cardwell; sons Harold S. Cardwell, Jr (Tracy); Timothy D. Cardwell, all of Buffalo, NY; and Rodney Jeter, Tucson AZ. He is also survived by a sister, Kathleen Cardwell, Cincinnati, OH; nine grandchildren, two great grandchildren; and many nieces and nephews. He was proceeded in death by his parents and older brothers Ralph and Richard Jones.