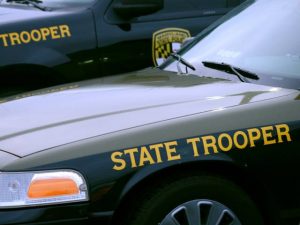 Maryland State Police are investigating a fatal Prince George's County crash that occurred when a law enforcement vehicle struck a pedestrian.
The identification of the pedestrian is unknown at this time. Prince George's County EMS responded and pronounced the pedestrian deceased at the scene. The unknown pedestrian did not have any identification with him at the time of the incident.
The officer involved is identified as Gary L. Bottalico. He was uninjured in the incident and is a sworn officer of the Metro Transit Police Department, assigned to the K9 Unit. Bottalico was off duty, on his way into work. He was operating his agency issued, marked Chevy Silverado pickup truck at the time of the incident.
The preliminary investigation indicates that shortly before 1 p.m. Monday, Jan. 1 Officer Bottalico was on his way to work while traveling northbound on 301 at Chadds Ford Drive in lane two. For reasons unknown at this time, a pedestrian reportedly walked into the street into oncoming traffic, directly into the path of the approaching patrol car and was subsequently struck.
The officer did not report any injuries during the incident. He has been placed on administrative paid leave, which is routine whenever a Metro Transit Police Officer is involved in a departmental incident.
The Maryland State Police CRASH Team responded to the scene to conduct the investigation. Upon completion, the investigation will be presented to the Prince George's County State's Attorney's Office, as a standard procedure for review.
Officers from the Prince George's County Police Department responded to assist along with Prince George's County EMS personnel. State Highway Administration personnel responded and assisted with the lane closure. Due to the incident, the road closure lasted for approximately 5 hours.
Investigators are collecting evidence and seeking anyone who may have witnessed the incident. Witnesses are urged to call the Forestville Barrack at 301-568-8101. The investigation continues.