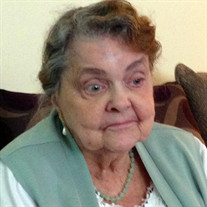 Elizabeth Anne Ashley, 85, of Upper Marlboro, MD passed away on Wednesday, January 24, 2018.
Born to the late Irene (Murphy) and Daniel Walter in Washington, D.C. She spent her formative years there, graduating from St. Cecelia's Academy before moving to Maryland to raise her family.
She is survived by her three loving children and their spouses, Jody (Robin) Groves of Dunkirk, MD, Rose (Gerald) Ray of Annandale, VA, and Rich (Mark) Keegan-Hudson of Upper Marlboro, MD; caring grandchildren, Dustin Linkins, Daniel Groves, Caitlyn (Keith) Wooten, Colin (Becky) Ray, and Nigel Ray; and great-grandchildren, Kaylie Johnson-Ray, Griffin Ray, Ronan Ray, and Logan Wooten.
Along with her parents, she was preceded in death by her siblings Sarah (Henry) Lipsy and Daniel Walter, Jr.
Elizabeth loved to read with her beloved cat Gracie beside her. She was an active member of the book club at the Upper Marlboro branch library on Main St. where she had worked. Elizabeth was a published author of two books, Return to Willowhurst and Reign of the Gypsy and was working on a third.