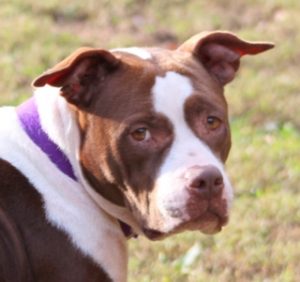 Wednesday's Pet for 1/31/18 is MILLIE
Featured Pet: Millie
Rescue Group: Pets with Disabilities
Disability: No physical disabilities
Breed: Pit Bull
Sex: Female
Size: Medium (50 lbs)
Vetted: Spayed and Up-to-date with routine shots
Adoption Fee: $300.00
Millie is a 6-year-old loving Pit Bull. Her owners were probably using her for breeding purposes and when they were done breeding her she was left behind in an overcrowded shelter. Millie's eyes looked sad but gentle, and the group just could not leave the shelter without her. Eyes do not deceive, and these pictures say it all! Millie has a phenomenal temperament, great with dogs, great with people, housebroken, she has a calm gentle demeanor, and she LOVES car rides and loves to cuddle in a nice big dog bed! She is a character and makes us smile every day. Millie is ready to share her life with a loving family.
Millie was a "HIT" at our recent Open House. She spent most of the day meeting ALL the visiting dogs and getting so much love from the people. She brought a smile to every face that met her. She is a very special dog. Millie could potentially be a therapy dog and definitely a fabulous ambassador for the breed. She is a stunningly beautiful dog, inside and outside, easy going, quite, gentle, and good on lead.
If you are interested in meeting her, please complete an Application
http://www.petswithdisabilities.org/adoptionapplication.doc and email it to [email protected].
A little bit of breed information:
The American Pit Bull has a strong desire to please his owners and is good natured, amusing and extremely loyal and affectionate. Very obedient, and always eager to please its master. The breed is extremely intelligent.
"He is your friend, your partner, your defender, your dog. You are his life, his love, his leader. He will be yours, faithful and true, to the last beat of his heart. You owe it to him to be worthy of such devotion."
– Unknown