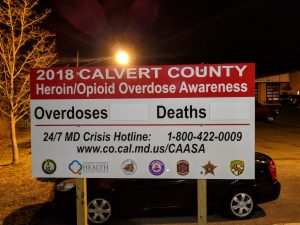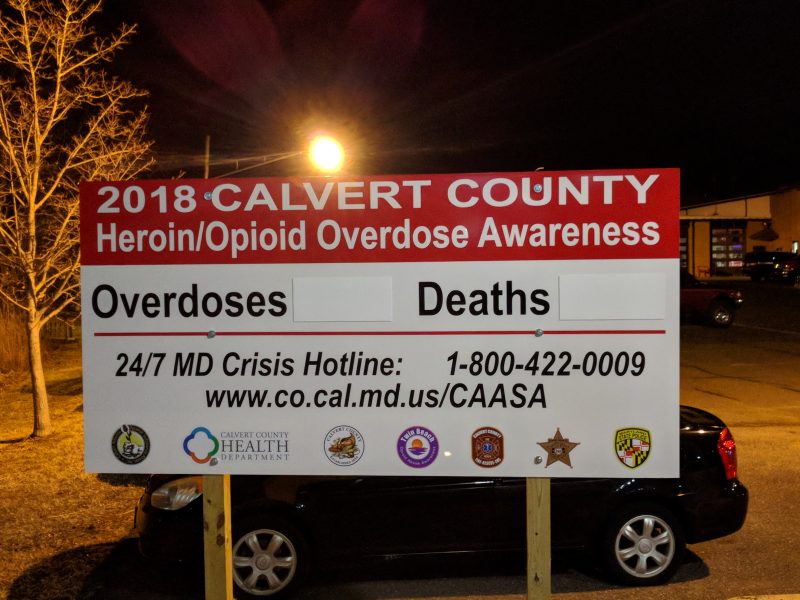 The Calvert Alliance Against Substance Abuse, Inc. (CAASA) in partnership with local law enforcement, Calvert County Government, Calvert Health Department, Calvert Opioid Intervention Team, Twin Beach Opioid Abuse Awareness Committee, and local fire and rescue squads installed three (3) heroin/opioid awareness signs.
The signs are located at the Prince Frederick Volunteer Fire Department, North Beach Volunteer Fire Department, and Solomon's Volunteer Rescue Squad and Fire Department.  "It is our hope that sharing the information in a public way will encourage residents to take notice and take action, stated Kristen DePhillip, President, CAASA Board of Directors.
CAASA is responsible for updating the signs with current overdose numbers and will do so at the end of each month with information obtained from the Sheriff's Office Drug Intelligence Officer.   Along with the overdose numbers, the signs share the 24/7 Maryland Crisis Hotline number (1-800-422-0009) and a link to the CAASA website (www.co.cal.md.us/CAASA) for a list of support services in Calvert County.
Overdoses in Calvert County increased from 98 (15 fatal) in 2016 to 183 in 2017 (33 fatal).  "We've got to work as a community to prevent the loss of any more of our citizens.  Knowing what we are dealing with and where to go for assistance is key," stated Sheriff Mike Evans.
For questions regarding the signs, please call the CAASA Office at 410-535-3733.