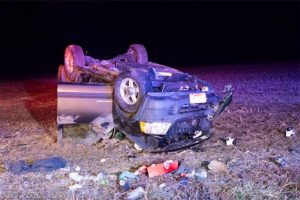 On Tuesday, February 6, 2018, Deputy D. Sidorowicz of the St. Mary's County Sheriff's Office responded to Boothe Farm Lane, in Great Mills, for a report of a burglary.
Ten minutes after the dispatch for the burglary, a motor vehicle accident was reported a few miles away. Deputy Sidorowicz responded to the accident and located a 2005 Ford Explorer overturned off the roadway in a field.
The vehicle was occupied by Mark John Dominiak, Tyler James Brookman, Joseph David Greenwell and a juvenile female.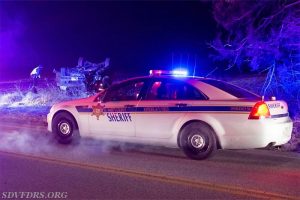 In the back of the overturned vehicle police located a 3′ x 5′ wooden box, the contents of the box were scattered due to the accident. The victim was called to the scene and identified several item that had been stolen from his property. When police went to the scene of the burglary they noticed the front door of a farm house had been kicked in. The victim showed police where the wooden box had been located inside.
Police responded to the hospital and made contact with Mark John Dominiak, the registered owned of the vehicle and he stated, he did not know there was a wooden box in his vehicle, and could not remember where he was prior to the accident.
The Juvenile female also said, she also didn't know a wooden box was in the back of the truck, and said she could not recall where she was prior to the accident.
Police then spoke to Joseph David Greenwell, who advised them that he had been to the farm house with the other three co-defendants on separate occasions. He said he had difficulty remembering the events leading up to the accident, and he did not know how the wooden box got in the vehicle. When police asked Greenwell the time frame the box could have been taken, he told them "if it happened, it happened right before the accident". When asked the last time he was at the house he said "I guess tonight". Greenwell then told police the only people had been with prior to the accident was the three co-defendants.
Police were unable to speak with Tyler James Brookman, as he was flown to an area trauma center.
A criminal summons was issued for Joseph David Greenwell, 20 of Lexington Park, and Mark John Dominiak, 19, of Dameron, charging them with four counts of burglary and theft.
Photos courtesy of the Second District Volunteer Fire Department & Rescue Squad.