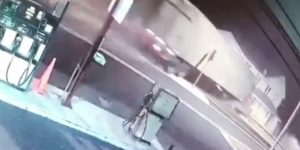 2/25/201/: Official Press Release from th St. Mary's County Sheriff's Office: On February 24, 2018, at 5:57 AM, deputies from the St. Mary's County Sheriff's Office responded to the 23000 block of Budds Creek Road, in Clements, for the report of a vehicle into a residence. Upon arrival it was discovered a tractor trailer had driven off the roadway and continued into an occupied residence, trapping the occupants inside. Due to the nature of the collision, the St. Mary's County Sheriff's Office Collision Reconstruction Unit and the Maryland State Police Commercial Vehicle Unit responded to the scene to assist with the investigation.
Initial investigation revealed a 2017 Kenworth T880 towing an empty semi-trailer, operated by Bolden Macarthur Walker, age 72, of Capital Heights, was traveling eastbound on Budds Creek Road, in the area of the traffic circle at Colton Point Road. For unknown reasons the operator lost control of the vehicle as it was approaching the traffic circle. The vehicle continued through the traffic circle, striking a curb, which caused the vehicle to cross the westbound lanes of Budds Creek Road. The vehicle then left the roadway, struck the awning of an unoccupied building, and ultimately collided into the side of an occupied residence. Inside the residence was Billie Kathleen Fitzpatrick, age 38, Thomas Martin Johnson, age 37, and two juveniles. The juveniles were taken to Medstar St. Mary's Hospital for precautionary measures. Walker, Fitzpatrick, and Johnson were all transported by ambulance to University of Maryland Prince George's Hospital Center, with incapacitating injuries, and are listed in stable condition.
At this time the collision remains under investigation by Deputy First Class Nauman. Anyone who may have observed the collision and has not yet provided a statement is asked to contact DFC. Nauman at (301) 475-4200 extension *8109, or by email at [email protected]

2/24/2018:
On Saturday, February 24, 2018, at approximately 6:00 a.m., First Responders were dispatched to 23640 Budds Creek Road, in Clements, for the report of a vehicle into a structure.
Units arrived on scene to find a tractor trailer into a house. The driver and two adult occupants of the home were trapped.
The two adult occupants were transported by ambulance to an area trauma center, two juveniles from the house and the truck driver were taken to MedStar St. Mary's Hospital.
The trailer was empty at the time of the accident.
More details will be provided as the become available.
Photos courtesy of the Seventh District Volunteer Fire Department.