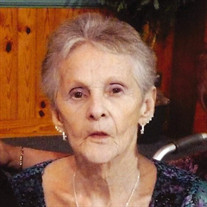 Barbara Lee Mullikin, age 73 of Waldorf, Maryland, died February 21, 2018 at her residence with Hospice.
Barbara was a homemaker and was known as "Mom" to everyone. She cared for ailing family and friends. She enjoyed dancing, music, and horses and was a giver and peace-maker. She was a good grandmother.
She was the daughter of Louis benedict Huntington and Margaret Hill Huntington. In addition to her parents, she was also predeceased by her husband, John F. Mullikin.
She is survived by her daughters, Terry L. Warner (Peter) and Cheryl A. Quade (Jerry); her brother, Jimmy Huntington; her sisters, Joyce Leeman and Linda Loughner (Jerry); and her grandchildren, David Rasnake, Jr. and Jordan Osborne.
Friends received on Saturday, March 3, 2018 from 9AM until time of Funeral Service at 11AM at Raymond Funeral Service Chapel, 5635 Washington Avenue, La Plata, Maryland 20646, officiated by Rev. Chris Bryan. Interment to follow at Ft. Lincoln Cemetery, 3401 Bladensburg Road, Brentwood, Maryland 20722.
Memorials in Barbara's name are asked to Hospice of Charles County, 2505 Davis Road, Waldorf, Maryland 20603.