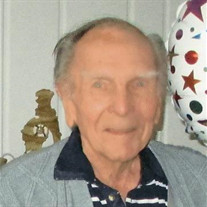 Marion Francis Federline Jr., 87, of Lusby, MD passed on Monday, February, 19, 2018.
He was born in Washington, DC, the son of the late Dorothy E. (Riley) and Marion Francis Ferderline Sr. He was the beloved husband of Doris Marie (Miller) Federline. They celebrated their 24th wedding anniversary in 2017. Prior to retirement he was a mechanical engineer for NASA.
Francis was a son, brother, husband, father, grandfather and great-grandfather. He was the favorite uncle and devoted to his family and friends. His bright smile and laughter will be remembered by all who knew and loved him.
Those wishing to remember Francis may make a contribution to the COPD Foundation, 3300 Ponce deLeon Boulevard, Miami, FL 33134 or at www.copdfoundation.org.