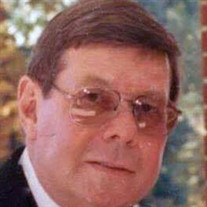 Thomas "Tom" Harrison Smith, age 71, of Ft. Washington, MD, passed away unexpectedly at his home on Friday, February 16, 2018. Born in Cumberland, MD on March 17, 1946 to Dorothy Evelyn Livengood and Thomas Lloyd Smith.
Tom was a loving husband, father, grandfather, brother, employer, and friend to many who knew and loved him. He had a love of spending time with family, accounting, maps, music (he said music was the best medicine and listening to 'Cousin Brucie' was a highlight for him). He also enjoyed his various vintage vehicles, both personally and in his business dealings. Anyone who knew him, knew of his love for food. He relished a good meal surrounded by family and friends and would be known to tell waiters to slow down and not rush the experience. He loved a good breakfast with all the fixings, but as of late, was very fond of oysters and lobster tails.
Tom had a most charismatic and optimistic attitude not found by many. He very rarely complained and always looked on the 'sunny side of life'. He was a graduate of LaSalle High School and Strayer University and was the owner of Prime Transportation, a District of Columbia based company since 1983.
Tom is survived by his wife, Charlene Hall Smith; son, Travis Smith of Brandywine, MD; daughter Trisha Watkins (Alan) of Wake Forest, NC; daughter Angie Isaacs (David) of Huntersville, NC; brother Kenneth Smith of LaVale, MD; brother Michael Smith (Aarti) of Centreville, VA; Grandchildren Draven Smith, Hannah Isaacs, Michelle, Allison, and Ryan Watkins and numerous nieces and nephews. He was predeceased by his parents.
Additional Viewing and Entombment will take place in Cumberland, MD