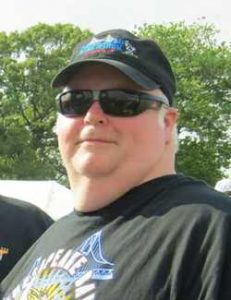 William Andrew "Andy" Dent, 56, of Tall Timbers, MD passed away February 23, 2018 at his residence.
He was born January 23, 1962 in Cyprus, located on the Mediterranean Sea to the late William John Dent and Mary Jo Johnson Dent.
Andy moved to St. Mary's County when he was two years old. He grew up in the restaurant business helping his father, "Chief." He eventually he took over his father's business, WJ Dent & Sons/Chiefs Bar, with his brother, David. His love of cooking and spending time with people was obvious to all who knew him. He was known for his delicious food, especially his stuffed ham and chicken salad (lovingly called Chicken Crack). He was dedicated to serving his customers, many became like family, and could always be found at work. He had many articles written about him and the food he prepared. Andy also had a green thumb and loved to care for his houseplants. When he did take time off, he enjoyed listening to Blue's music and going to the annual Chesapeake Bay Blues Festival in Annapolis, MD, only missing one year. He was an avid Baltimore Raven and Oriole fan. He also enjoyed hot and spicy food followed by Crown Royal. He loved his family and enjoyed spending time with them.
Andy is survived by his siblings: Thelma Kathleen Dent Sparks of Great Mills, MD, Ralph Anthony "Tony" Dent (Jane) of Solomons, MD and David Dent of Lexington Park, MD; his nieces and nephews: Darryl Scott Sparks (Christopher Suttmoller), Jessica Marie Dent, Samuel Pratt (Brittany Hall), Rebecca Kissinger (Jake) and Randae Renee Sparks,; great nieces and nephews: Clementine Pratt, Lorelai Pratt, Eleanor Pratt, Xander Sparks, Zylier Grube, and Aryn Tilly,; and many extended family and friends. He is preceded in death by his parents.
Family will receive friends for Andy's Life Celebration on Wednesday, February 28, 2018 from 2:00 p.m. to 6:00 p.m., with a Life Celebration Service at 6:00 p.m. at the Valley Lee Volunteer Fire Department, 45245 Drayden Road, Valley Lee, MD 20692.
Memorial contributions may be made to the Second District Volunteer Fire Department, P.O. Box 1, Valley Lee, MD 20692.