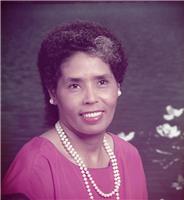 Lillian Viola (Watson) Bush was called home on Saturday, February 24, 2018. Known as "Viola" by family and "Lillian" or "Lil" by friends and former co-workers.
Viola grew up on a tobacco farm in Charles County, MD. She helped her parents farm the land and assisted with childcare of her younger brothers and sisters. It was challenging work. However, some of her fondest memories were of growing up on the farm and telling funny stories about her experiences.
Lillian (Viola) was employed with the United States Patent and Trademark Office from which she retired in 1995. During her tenure as a patent researcher, she received several awards for outstanding service.
During the early chapters of her life, Lillian loved to sew and decorate her home. Nothing gave her greater pleasure than to take a few yards of fabric and create a beautiful garment to wear. She created clothes for both herself and children to wear. She also loved making a beautiful and comfortable home for her children. It wasn't unusual for her to work long hours (including overtime) at her job, come home and cook for her two daughters, help her daughter with homework, sew a new garment and/or take on a new home improvement project. She was strong, tireless, and resilient woman.
Lillian was a do it yourself lady. Her daughters could come home anytime to find her making household repairs including unstopping a sink, replacing kitchen tile, caulking a tub, installing a new light fixture, wallpapering or painting a room, sanding wood floors, or reupholstering a chair. You name it, she could do it. If there was way she could do it yourself, she did it and did it well.
After retirement, Lillian became an avid reader. She also loved to work in her yard and garden. She challenged her mind with computer card games and puzzle books. Lillian loved old movies and TV shows like Perry Mason, Gunsmoke, and Rawhide. While not a participant in sports, she loved watching it. Her favorites television sports programs to watch were NASCAR and Golf.
Lillian had numerous health crises in her life, but she always tackled them like everything in life with strength, courage, and determination. She will be greatly missed by her daughters who loved her dearly.
She was preceded in death by her brothers, John Oscar Watson, Arthur Gardiner Watson, and Richard Jerome Watson, Jr. She is survived by her daughters, Tracy Denise Bush and Crystal Marlene Bush; siblings, Dorothy Watson, Ann Sharp, James Andrew Watson, Sr., Walback Watson, and Victor Watson. She is also survived by sisters-in-law, Jane Watson, Agnes Watson, Barbara (Watson) Kilson, Gerlean Watson, Bettie Watson, Ursula Watson, as well as a host of nieces and nephews.
Family and friends will unite on Thursday, March 1, 2018 for visitation at 10:30 am until Mass of Christian Burial at 11:30 am at Holy Family Catholic Church, 2210 Callaway St., Hillcrest Heights, MD 20748. Interment to follow at Resurrection Cemetery, 8000 Woodyard Rd, Clinton, MD 20735.