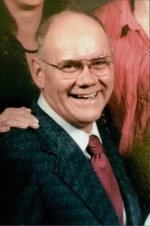 Joseph "Donald" Clarke, Sr., 91, of Mechanicsville, MD passed away on February 25, 2018 at his home. Born on January 10, 1927 in Hermanville, MD he was the son of the late Mary Olive Cullison Clarke and James Clarence Clarke. Donald was the loving husband of Mary Evelyn Yates Clarke whom he married on January 22, 1951 in Morganza, MD and who preceded him in death on January 18, 2003. Donald is survived by his children: Sue Wood (Zack) of Mechanicsville, MD, JD Clarke (Pam) of Clements, MD, Laura Clarke (Jeff) of Leonardtown, MD, April Rollins (Randy) of Mechanicsville, MD and Tommy Lee Clarke (Shelly) of Mechanicsville, MD, and his brother Glenwood Clarke. He is preceded in death by his children: Patricia Ann Long and Mike Clarke. Siblings: James Clarke, Sr., Evelyn Corso, Richard Clarke, Wilhemina Ford, Loretta Morgan, Maurice Clarke, Benedict Clarke and Alvin Clarke.
Donald graduated from Margaret Brent High School in 1944 and was a lifelong St. Mary's County, MD resident. He served in the United States Army from February 24, 1944 to March 14, 1946 where he earned the World War II Victory Medal. Donald was an Electrical Mechanic for Patuxent Naval Air Station for 36 years retiring on November 19, 1980. He enjoyed baseball, softball, hunting and fishing.
The family will receive friends on Thursday, March 1, 2018 from 5:00 PM – 8:00 PM with prayers recited at 7:00 PM in the Mattingely-Gardiner Funeral Home Leonardtown, MD. A Mass of Christian Burial will be celebrated on Friday, March 2, 2018 at 10:00 AM in St. Joseph Catholic Church Morganza, MD with Father Drew Royals officiating. Interment will follow in the Church Cemetery. Pallbearers will be: Donnie Goldsburough, David Rollins, Clarke Rollins, Bryan Clarke, Dustin Bullock and Cameron Clarke.
In lieu of flowers donations may be made to American Legion Post 221, 21690 Colton Point Road Avenue, MD 20609