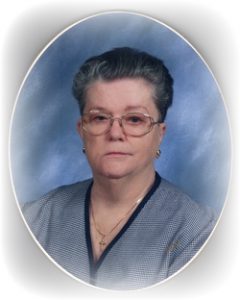 Susan Elizabeth Howe, 81, of Clements, MD passed away February 27, 2018, peacefully at the Hospice House of St. Mary's.
She was born January 16, 1937 in Leonardtown, MD to the late William Ford Wathen and Catherine Harden Wathen.
On July 2, 1964 Susan married her beloved husband, Paul Thomas Howe, at St. Joseph's Catholic Church in Morganza, MD. Together they celebrated over 53 wonderful years of marriage. She loved being surrounded by children and was the loving babysitter for many. She was known for her love of baking, especially her delicious lemon meringue pies and scrumptious chocolate chip cookies. She enjoyed tending to her flowers, sewing, playing BINGO, and a good game of Pitch with friends and family. She and her husband enjoyed visiting with family near and far. She was devoted to her husband, and loved spending time with her family, especially her grandchildren. She enjoyed keeping a loving and wonderful home for her husband and her sons, whom she was very proud of. She was a long time active member of St. Joseph's Catholic Church and spent many happy moments volunteering behind the scenes.
In addition to her beloved husband, Susan is also survived by her sons, Mark Allen Howe (Kimberly) of Leonardtown, MD and William Martin Howe of Leonardtown, MD; four grandchildren: Emily Nicole Howe, Matthew Ryan Howe, William Thomas Howe, John Luke Howe; and many extended family and friends. In addition to her parents she is also preceded in death by her siblings: John Plowden Wathen, Joseph Mitchell Wathen, Mary Virginia Lusby, Agnes Theresa Harding, James Tilton Wathen, William Douglas Wathen, Mary Catherine Harding, James Aloysius Wathen, and Wilmer Claude Wathen.
Family will receive friends on Friday, March 2, 2018 from 5:00 – 8:00 p.m. with prayers recited by Reverend Andrew Royals at 6:00 p.m., at Brinsfield Funeral Home, 22955 Hollywood Road, Leonardtown, MD 20650. A Mass of Christian Burial will be celebrated by Reverend Keith Woods on Saturday, March 3, 2018 at 10:00 a. m., at St. Joseph's Catholic Church, 29119 Point Lookout Road, Morganza, MD 20660. Interment will follow in the church cemetery.
Serving as pallbearers will be Matthew Howe, Jerry Wathen, Donald Wathen, Larry Wathen, Junior Wathen, and Danny Wathen.
Memorial contributions may be made to St. Joseph's Catholic Church, P.O. Box 175, Morganza, MD 20660; Hospice of St. Mary's, P.O. Box 625, Leonardtown, MD 20650; and Leonardtown Volunteer Rescue Squad, P.O. Box 299, Leonardtown, MD 20650.
Condolences to the family may be made at www.brinsfieldfuneral.com.
Arrangements by the Brinsfield Funeral Home, P.A.