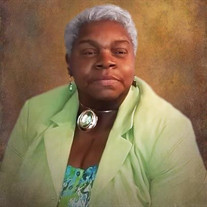 Gladys Washington, 68 of Bowie, Maryland (formerly of Waldorf, Maryland), passed on February 21, 2018 at Villa Rosa Nursing and Rehabilitation Center in Mitchellville, Maryland.
Born April 3, 1949, she was the daughter of the late Fannie Dodson (Duckett).
Mrs. Washington attended Charles County Public Schools. She was employed as a dietician/head cook within Charles County and PG County for more than 40 years.
From an early age, Gladys was known for great sense of style, and always looked good. In her early twenties, she caught the eye of/met the love of her life – James A. Washington. They were united in holy matrimony at St. Matthews United Methodist Church in La Plata, MD in 1965.
Gladys was a very gentle and quiet spirit. Nothing made her happier than spending time with her family! She cherished her special time with her grand and great grandchildren, playing games and teaching them to cook. Gladys truly loved her immediate family as well as her extended family. Every year, she looked forward to hosting the annual family breakfast in celebration of her mother's birthday. She also loved to dance and take trips with her family.
Gladys was blessed to have a career doing exactly what she enjoyed – cooking. For over forty years, she worked as a dietician/head cook at several retirement communities and nursing homes throughout Maryland until she retired in 2010.
Gladys was a faithful member of St. Matthews United Methodist Church, in La Plata, MD. She loved to attend Sunday morning service with her daughter Sharon and family. She loved to worship and praise the Lord.
Mrs. Washington is survived by her children, Sharon Dodson, Colleen Dodson, and James Washington, Jr.; her siblings, Cora "Peggy" Evans and Earl Dodson (Catherine Dodson); four grandchildren; two great grandchildren; numerous nieces, nephews and cousins.
Visitation will be held Tuesday, March 6, 2018 from 9:00AM until time of service at 11:00AM at La Plata United Methodist Church, 3 Port Tobacco Road, La Plata, MD 20646.