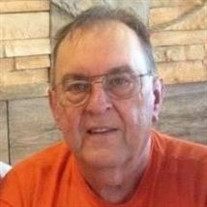 William "Bill" Edward Kotch, 75, passed away Friday, February 23, 2018 at his home in Myrtle Beach surrounded by his family. He was the son of the late John and Anna Kotch.
Bill was born November 7, 1942 in Trenton, New Jersey and grew up in Roebling, NJ.
He enlisted in the US Navy at age 17 and was stationed at Anacostia Naval Base and Andrews Air Force Base. While serving as an electronics technician in the Navy, he met his future wife Carol Sue Kappa. Together they had almost 56 years of wedded bliss!
During his time in the Navy, he was in the ceremonial guard and marched in parades during President Kennedy's years in office. After serving in the Navy, he went to work for Washington Gas where he worked for 30 years. In 1968 they moved from Washington, DC to Waldorf, MD where they lived for 30 years before retiring to Myrtle Beach, SC. During this time, he received an Associates in Arts degree in Business and began a company called K & L contractors.
Bill was a great husband, father, grandfather, son, uncle and friend to many. He was an avid golfer and especially fond of his beloved Boston Red Sox, which was his favorite team since he was 5 years old. He was also a fan of the Washington Redskins and the Washington Capitals. He had many hobbies including coin collecting, traveling, history, painting, gardening, softball, bowling and collecting baseball cards. He enjoyed history and was always ready with trivia questions. He loved playing poker and joining poker tournaments. He went on many hunting trips with his friends and was a member of the St. Charles Sportsman's Club.
He loved spending time with his grandchildren and sharing in their interests. He enjoyed coaching his grandsons' little league team. He was a regular spectator at his granddaughter's high school field hockey games and was her most ardent fan. He was always there for a golf tip and lesson for his grandson.
Survivors include his wife, Carol Sue Kappa Kotch, Myrtle Beach SC; daughter Jennifer Lynn Lennon (Edward), grandchildren, Kristen Budd, Mark and Cody Tewell, Amanda and Michael Lennon great grandchildren Kiley, Evelyn, Oliver, and Gemma; sister Arelene Paris (Frank) of South Hampton NJ. He was preceded in death by his daughter Lisa Tewell Wray, 2013 and his brother Walter Kotch, 1965.
Visitation on Thursday, March 1, 2018 at 3:00-6:00 PM at Raymond Funeral Service, P.A. 5635 Washington Avenue La Plata, MD 20646.
Burial will be at a later date.