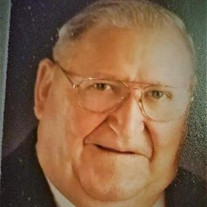 William L. Wedding, Sr. "Chunk" passed on February 24, 2018. He was preceded in death by his wife, Margaret Elaine; as well as his parents, Carroll Berklon Sr. and Lucille (Wenk) Wedding; brothers Carroll, John and sisters Kossie, Mabel, Mary "Eloise", Lillian Eleanor, Thelma, Viola, and Irene.
He is survived by his sons, William "Pete" Wedding and George Wedding and Janice; and step children, Ed Whitley and Dale; Danny Whitley and Teresa; Janyce Van De Weert and Kenny; Robyn Bynaker; and Mike Whitley. He is also survived by siblings, Carroll Berklon Jr., Eleanor, David, George, and Ronnie; as well as numerous nieces and nephews. He was especially proud of all his grandchildren and great-grandchildren and special friends.
He was born on August 10, 1933, in Charles County, Maryland, where he remained as a resident his entire life, except during the time he served in the United States Army. Mr. Wedding was then employed by the government until his retirement after 31 years of service.
Bill loved serving his community as an Emergency Medical Technician (EMT-B). He was a life member at both the Ironsides Volunteer Rescue Squad (IVRS) and the Charles County Mobile Intensive Care Unit (CCMICU). During this time, he received numerous Emergency Medical Service (EMS) awards and acknowledgements for his outstanding services to Charles County as well as the State. He held various positions during this time including Charles County Captain and President of the Charles County EMS Association, Inc.
As an active member of the Nanjemoy Baptist Church, he loved gospel hymns and the socials, especially those including fried oyster feasts and any activity which included fried chicken and desserts. He was known for his passion to ride his tractor and his favorite sport of "cutting grass".
He passed peacefully to the Lord, and to join his wife, Elaine and Pocco, their four legged baby.
In lieu of flowers, the family requests that donations be made to the Nanjemoy Baptist Church, 3030 Baptist Church Road, Nanjemoy, MD 20662.